You are cordially invited to the Conference "Myanmar. The new Asian frontier". The event will take place in Rome, Italy, on October 23, 2013 at the International Conference Room of the Ministry of Foreign Affairs (Address: Piazzale della Farnesina, 1)
Participation and Registration
Participation in the conference is free of charge, upon registration. Registration can be made through the following email address:
convegni@osservatorioasia.com – tel. 0542 31977
Please provide your contact details and the name of the organisation/enterprise you represent.
The working languages will be Italian and English. The equipment for simultaneous translation will be provided.
After lunch the Directors General from the Ministry of National Planning and Economic Development and the Ministry of Commerce of Myanmar will be available to answer specific questions.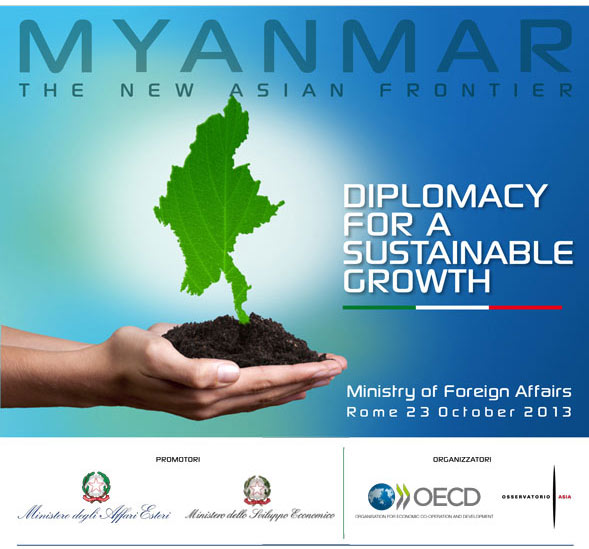 THE CONFERENCE
The Conference is promoted by the Italian Ministries of Foreign Affairs and Economic Development, in collaboration with the OECD and Osservatorio Asia.
The event will highlight the profound and complex transformation taking place in Myanmar and analyse the challenges that the country is addressing, in order to achieve a strong, sustainable growth and restore its role in the international arena.
The Conference will also present the possible future development scenario for Myanmar, with a view to its peculiar characteristics and the path to economic integration in globalisation.
The Italian Government was among the first to support the opening towards democracy of Myanmar, encouraging reforms and the restoration of freedom. It will continue doing so, with a strong and attentive commitment.
This dialogue between Myanmar and Italy governments constitutes the fundamental base to start developing new, valuable business relations, declined in the typical forms of internationalisation: investment, trade, industrial cooperation.
The presence of the Foreign Ministers of Italy and Myanmar, the Italian Undersecretary of State of the Ministry of Economic Development and the OECD shows the increasingly important engagement of Myanmar in bilateral and global relations.
The political opening panel will be followed by a technical panel on the economic and social aspects of Myanmar, with a specific focus on the new investment law and its characteristics of sustainability, according to the OECD Guidelines for Multinational Enterprises. Regulatory, economic and social frameworks: these are all crucial aspects to understand the evolution of the country and identify new business opportunities and partnerships between Italy and Myanmar.

Program of the Conference "Myanmar. The new Asian Frontier"
"International Conference Room" of the Ministry of Foreign Affairs, Rome

Registration and welcome coffee

Opening remarks, Efisio Luigi Marras, Director-General for Global Affairs, Italian Ministry of Foreign Affairs
Italy's policy on Myanmar, Emma Bonino, Italian Minister of Foreign Affairs
Recent political developments, Wunna Maung Lwin, Minister of Foreign Affairs of Myanmar
The outcomes of a political approach to Myanmar, Mayor Piero Fassino, former EU Special Envoy for Myanmar
Binding constraints to development in Myanmar, Mario Pezzini, Director of the OECD Development Centre

A new economic climate: the law on foreign investment and other incentives

,

Aung Naing Oo

, Director-General, Ministry of National Planning and Economic Development

The OECD Guidelines for Multinational Enterprises in Myanmar

,

Roel Nieuwenkamp

, Chair of the OECD Working Group on Responsible Business Conduct

The path to the economic take off. Sectors and modalities

,

Aung Soe

, Deputy Director-General, Ministry of Commerce

Export, investments, cooperation from the Italian companies

,

Paolo Zegna

, President of Technical Committee for Internationalisation of Confindustria

Cooperation in the energy sector

,

Paolo Scaroni

, CEO of ENI

Civil society and political democracy, Vincenzo Scotti, former Minister and President of "Italia Birmania. Insieme"

Conclusions

,

Claudio De Vincenti

, Undersecretary of State, Italian Ministry of Economic Development